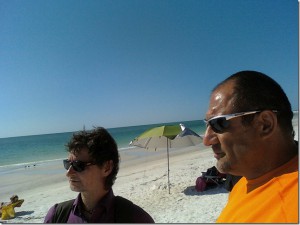 Pelican Press, Sarasota, FL
By Moira Toner | Nov. 3, 2010
Over the Halloween weekend, 21 students from across the county, representing at least six schools, came together to create, collaborate and compete at the third annual Sarasota Chalk Festival. They all arrived with drawings and dreams of winning the $250 People's Student Choice award.
Some students were sponsored by schools; others had corporate sponsorship. Some worked as teams; others went solo. None had had any experience creating street art with chalk.
That's not to say they weren't prepared. The artists representing Riverview and Booker high schools had attended a street chalking class on the afternoon of Oct. 29, taught by professional chalk artists and sponsored by the festival.
Paige Howell, 11, representing Incarnation Catholic School, arrived with her design on paper with a grid overlay. She said that while the grid technique helped her scale her artwork up from letter size to street size, there wasn't much she could do to prepare for the difference between working with chalk on the rough street versus smooth paper.
A few students did talk of one disappointment – that they did not know about glow-in-the dark ("photoluminescent") chalk before they arrived. Once they were on site in Burns Square, they heard about the light-into-dark effects German artist Edgar Müeller was incorporating into his design. Photoluminescence reportedly was a last-minute design change he made, and a premiere for Sarasota. Still, the student artists wanted to know where to get that type of chalk, how to use it and how it works.
When Müeller's photoluminescence specialist Johnie Laham learned of the students' excitement about adding glow-in-the-darkness to their designs, he said he could relate. After all, he's the artist who created the world's largest photo luminescent sculpture, a Lebanese cross that can be seen at night for 2 miles.
In short order, Laham bridged the gap between Sarasota's chalk artists and the world's foremost professional with a jar of the non-toxic liquid luminescence, all mixed and ready to apply with a paintbrush, finger or anything else handy. Laham even provided a bag of the powder and mixing instructions for Art Center Sarasota, a local nonprofit that works with all area schools.
A few minutes later, students from three schools were working together to collect water bottles and divide the greeny-yellow gooey spookiness. Portions went to school-sponsored artists from Riverview, Booker, North Port, Incarnation and Southeast high schools as well as Sarasota School of Arts and Sciences.
That may well have been the spirit of cooperation that led the Riverview and Booker artists to hatch the idea for an all-high school chalk event next spring. High school senior Jessica Serra explained that the idea came about simply because her seven-person Riverview team was working next to Booker artist Briana Calderoń.
"Right now, we're brainstorming," Jessica said. "For the first year, this spring maybe keep it small and bring the three Sarasota highs together," with sights on expanding the effort the following years.
"Briana told us that they're not doing the Black and White art show at Booker this year, so maybe we'll bring that in," Jessica added.
Event creator Denise Kowal said she hopes students and art teachers keep the spirit of the festival going all year, adding that the students' "talent and the way they worked is just amazing. They are so important to the festival and a big reason why we do it. I'm so proud of all of them!"